My family tree is pretty much decorated exactly the same every year. However, when I get my own place, I would like to decorate it with a different theme every year.
The theme we currently go for with our tree is red and gold. Admittedly, I do like this theme as it is very traditional and makes the tree look like a classic.
This would be the perfect entrance to a house
Another thing I would really like on a tree is tinsel. Tinsel is something that is not even allowed to set foot in my house as my Mum hates the sight of it. However when I decorate my own tree THERE IS GOING TO BE TINSEL EVERYWHERE!!! #someonestopme
A touch of tinsel!
Candy canes are a well known symbol for Christmas. I've seen quite a few candy themed trees, and all I can say is they're just too cute to handle.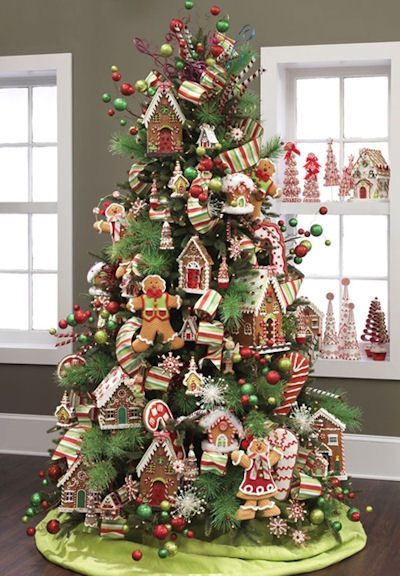 The gingerbread decorations look really cute too
And now onto a slightly less traditional form of Christmas tree. Brightly coloured. I understand they're not for everyone, but personally I think they're a great way to add a bit of festive colour to your home. I probably would never have one as a main tree, but if I wanted a miniature one in another room I would have one like this:
It's obviously not real but still cool
And finally, one of my favourite themes; snowy. I absolutely love winter and looking outside when its frosty. So why not bring that look into your home? Even when it's just simplistic with a few glass decorations it looks really elegant.
Glass decorations make trees look really snowy and icy
Thank you for reading today's Blogmas post. The song of the day is the
Power Of Love
by
Gabrielle Aplin
. Let me know in the comments how you like to decorate your tree xxx