I'm probably the last person to do this tag this year but oh well. Let's get started:
What is your favourite Christmas film?
That would without a doubt have to be Elf. That film is on a constant loop in my house throughout the Winter and I can basically quote it off by heart.
This film makes me cry with laughter every single time I watch it
Have you ever had a white Christmas?
I live in England where it usually snows around January or February so it just misses Christmas. With that said, I have had a couple of white Christmases before which have been simply magical.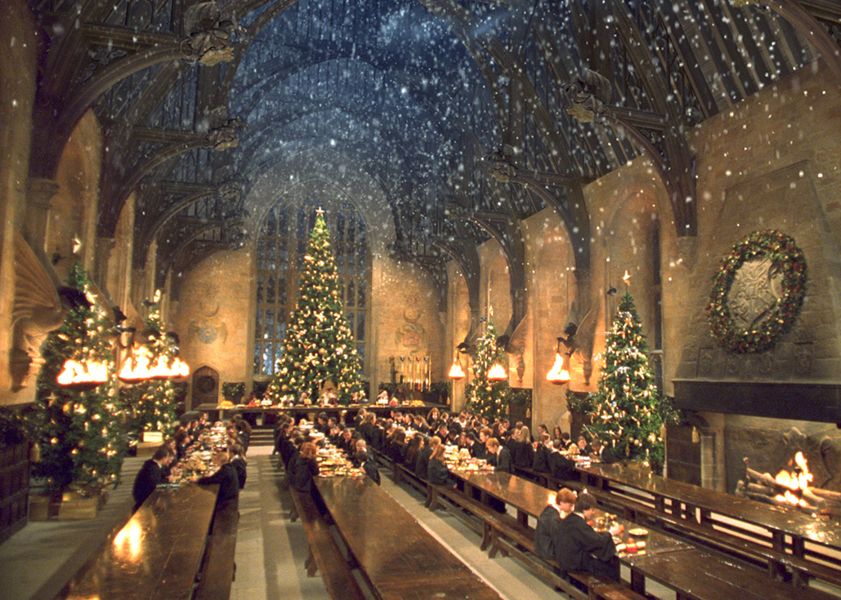 Magical get it? This is Christmas at Hogwarts...
...I'll show myself out
Where do you usually spend the holiday?
Christmas mornings are usually spent at home where we open our presents in the morning. Then, every year, our family takes it in turns to host Christmas dinner at their houses. One year its at our house, the next its at my Aunts house etc...
What is your favourite Christmas song?
I've written a post about most of my favourite Christmas songs here, but ultimately, it's gotta be Fairytale of New York. Its the jolliest song I've ever heard and you can quote me on that!
Do you open any presents on Christmas Eve?
When I was younger I spent a few Christmases in Germany where its traditional to open your presents on Christmas eve. But now I open all my presents on Christmas morning. I love the excitement getting up early to find out if "Santa's been" and then being able to spend the rest of the day using my new things.
Can you name all of Santa's reindeer?
Nope, I can pretty much only name Rudolf!
What holiday traditions are you looking forward to the most this year?
I've already done my favourite holiday tradition which is decorating the tree. Every year my family put Christmas music on and we dress up to decorate the tree. It's so much fun and I wrote about it here.
My costume this year!
Is your Christmas tree real or fake?
My Christmas tree is always fake. My parents have had the same one for 20 years which means I've sadly never been Christmas tree shopping. I feel like I'm missing out on a vital life experience.
I'd love to have a real one at some point
What is your all time favourite holiday food/sweet treat?
I absolutely adore gingerbread. At any other time of the year I wouldn't go near it, but in the Winter I cant seem to feel festive without it.
Be honest: do you like receiving or giving gifts better?
In all honestly I prefer giving presents. Unfortunately I'm rubbish at choosing presents and I'm always too broke to afford decent ones for my friends. Honestly, my friends deserve so much better than what I give them. If I won the lottery, I would spoil my friends by giving them amazing presents for once.
What's the best Christmas gift you've ever received?
The present I was most excited for receiving before was my Nintendo DS Lite. Remember those? I remember on Christmas Eve I was imagining what it would be like to have one and then my wish came true the next morning when I opened the box. I didn't put that thing down for years.
This was the exact colour mine was
What would your dream place to visit for the holiday season?
It's always been my absolute dream to visit New York when it's snowing. I think I've been watching too much Elf and that's inspired me to go.
Are you a pro-present wrapper, or do you fail miserably?
I am a complete and absolute failure when it comes to wrapping presents. Whenever I wrap them it looks like they've been done by a duck with no eyes. One year I decided it would be a great idea to wrap my friends present entirely in sellotape and the present ended up breaking. I would not recommend doing that.
Most memorable Holiday moment?
My most memorable holiday moments are all the times I've been sledging. That is one of the things I enjoy the most about snow.
What made you realize the truth about Santa?
You know the film The Gremlins which a lot of children watch? Well who decided it would be a great idea to mention it in there. I watched that film and remember my whole world crumbling when the "truth" was revealed.
This stupid film ruined my childhood
Do you make New Years resolutions? Do you stick to them?
I never make big New Years resolutions. The way I see it, if there is something you want to change about yourself why wait till the new year to do it? I basically just make many small resolutions throughout the year.
What makes the holidays special for you?
This would without a doubt simply be the festive spirit. Everyone listening to music, teachers taking it slightly easier (before they bombard you with homework for the holidays), films on the TV and decorations everywhere you look.
I apologize for more Elf quotes!
Thank you for reading the Christmas Tag. If you have not done this tag yet then I tag you! The song of the day is
Last Christmas
by
Wham
.