I spent yesterday having a movie marathon which is what inspired me to do this post. I enjoy watching Christmas films throughout the holidays. My favourite ones are as follows:
Elf- I think I've talked about this film about 10,000 times already this Blogmas but oh well. For those of you that don't know, this film is about a human who is adopted by elves. He then tries to fit back into the human world which has funny consequences. It basically plays on a constant loop in my house throughout December and everyone in my family can quote every line.
Home Alone- I find Home Alone 1 & 2 with the original actors the best. Poor Kevin always finds himself in some sort of trouble. Turns out being away from his family isn't exactly what he wants around this time of the year. You know Christmas is approaching when they show Home Alone 2 on the TV!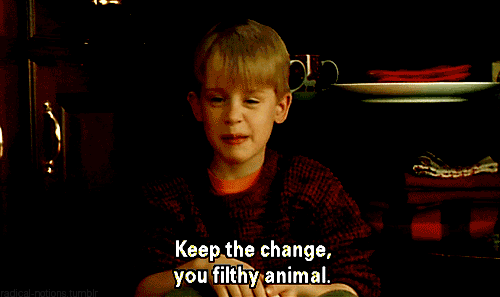 The Grinch- I've mentioned in my guest post with Lauren (here) that the Grinch used to scare me when I was younger. I remember it being on the TV when I was about 5 and turning it off because he creeped me out. Then I came across the film years later and absolutely loved it. I cant see why I found it so scary because its a silly film that you cant but help laugh at.
The Polar Express- Every year, me and my sister watch this film on Christmas Eve. Its one of the sweetest films I've ever seen and I find the soundtrack really adorable. This film will never fail to make you believe in Christmas magic.
National Lampoon's Christmas Vacation- My parents were the ones who first showed me this film because they absolutely love the National Lampoon Vacation series. Its hilarious and shows your typical family Christmas with your not so typical family. I haven't heard of many people talk about it so if you haven't seen it I definitely recommend that you do.
Thank you for reading. The song of the day is
When Christmas Comes To Town
from the movie
The Polar Express.
Have you seen any of these films, if so what do you think of them? xxx