On Friday the 5th of June I was lucky enough to see
5SOS
live. And let me tell it was AMAZING. I probably become more and more obsessed with this band everyday, but do you blame me?
I went into Birmingham with the banter squad (aka two of my friends who are 5SOS fans) at 11am. We decided to get in nice and early to actually spend the day outside our houses. We've all just finished our exams so it was nice not to be cooped up in our rooms revising. We also had a good ol' catch up.
And I'm not gonna lie, the main reason we went in so early was kind of optimistic and embarrassing, but I'm all about being honest on my blog. Ok, prepare for mega cringe...we were hoping to "conveniently" bump into them. We heard rumors that they were hanging around town the day before. Unfortunatley for us (but probably luckily for them) we didn't spot them. They apparently even went to a coffee shop and we spent the whole day in Starbucks, Cafe Nero and Costa and still didn't see them. Lucky, we didn't set our hopes of meeting them too high, because we thought it was pretty unlikely, and just enjoyed the day out regardless.
The atmosphere inside the concert was absolutely crazy. You could tell you were surrounded by dedicated fangirls. Their support act did a good job at getting the crowd into the spirit of things too. They were called
Hey Violet
and I'll be honest I'd never heard of them before. But that's probably just because I've been living under a rock for the last few months.
I still remember seeing the boys as they came on and omg the excitement was too real. A two minute count down came on stage and I thought my eardrums were going to burst with the screaming that filled the arena. And words cannot describe how amazing they looked. I mean like proper drop dead gorgeous. I still can't believe those wonderful human beings were standing right in front of me.
The set list was perfection too and included my favourite songs of theirs. I was chuffed to pieces when they did their cover of American Idiot that I'm crazy about at the moment. They even tried to cheekily trick us into thinking that She Looks So Perfect was their last song and that they were leaving after that. But we were like "nah nice try we've seen the set list" and knew that there were still more songs to come because they still hadn't done some of their classics. It was still funny of them to do though.
At the end of the show, Ashton threw his drum sticks into the audience. I found out later that a girl from my dance class was sitting next to the person who caught them which is absolutely crazy. Speaking of crazy, I would definitely have to say that this was one of the craziest concerts I've been to in terms of fans. We had to walk around the arena to get to the car park afterwards, and it took ages because it was so cram-packed with people. Like, it was busier than my school corridors and that's saying something!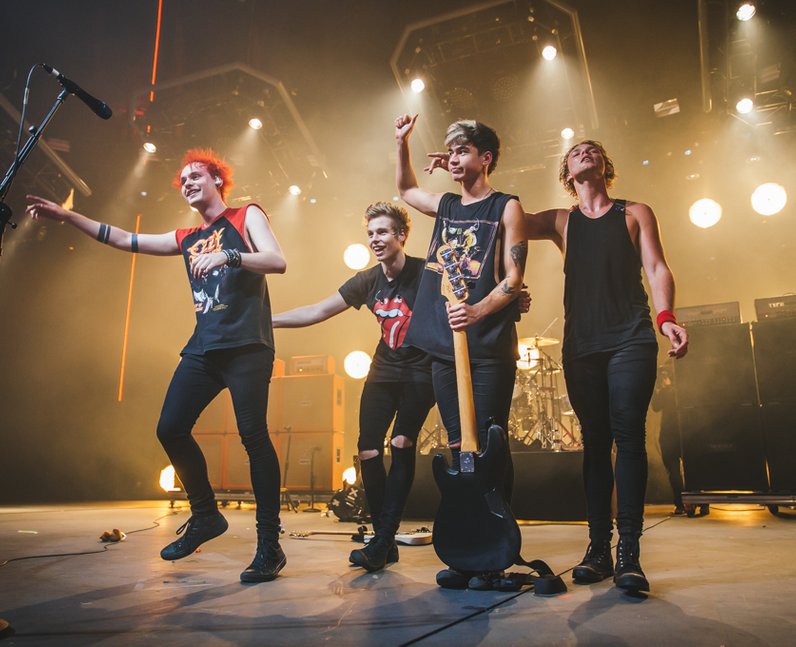 I had such and incredible day in Birmingham which was then topped of by an even better night watching 5 Seconds Of Summer perform. I'm still in such a hyper mood and I'm listening to their songs on repeat. The song of the day is
Voodoo Doll
by
5 Seconds of Summer
(obviously). What do you think of this mad but fantastic band? xxx