... Woah, livin' on a prayer! (quite literally)
I feel like I haven't updated the little escape from my life, which is my blog, for quite some time, so a post is definitely due. Sadly, all I've been doing with my life is going to my A-levels. After all, my exams aren't gonna fail themselves- am I right?
"How are your exams going Izzy?"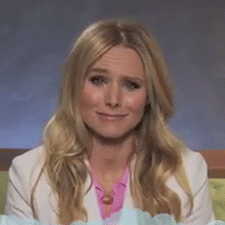 As the title suggests, I'm now halfway through my AS exams. Well, I've done 7/9 so I'm a bit over halfway, but I'm still living on a prayer to get me through the last two. My last two exams are biology and chemistry unit 2's which are my absolute worst topics out of any of my subjects.
This will be my reaction when I read the first question
The strange thing is I never did too badly at school, that is until exam stress kicked in. For GCSEs I ended up getting a C, three B's, one A* and the rest A's. But this year is a completely different story and I'll be lucky to get a C in any of my subjects.
I'll need a miracle to pass them and I wish I was joking.
Looking for a chance at passing my exams
If you follow me on
Twitter
you may have guessed I've been having a teensie-weensie breakdown over my exams. I can't seem to stop retweeting from the page "
A Level Problems
" and I think it's becoming a problem. But yeah, despite wanting to, I cant seem to concentrate on my exams due to the internal screaming that happens when I think about them.
I might look fine but I'm...
Something that's stressing me out more than the exams themselves is waiting for the results. After every exam I try to find the unoffical markscheme online. I always end up shouting at myself and being like "OMG IZZY YOU KNEW THAT SO WHY DIDN'T YOU WRITE THAT DOWN?!?". Looking at the Chemistry mark scheme has definitely knocked down my confidence for the next exam so I'm preparing for complete and utter total failure.
When I remember all the answers after the test has finished:
I just can't wait until all my exams are over so that I can finally start to enjoy myself. I'm going to power through these last couple of weeks of revision so please, please, please bare with me. I'm sorry for the lack of posts during this revision period but I'll be back to posting regularly ASAP!
The song of the day is
Livin' On a Prayer
by
Bon Jovi
. I honestly wholeheartedly admire anyone that is actually passing their A Levels, you must literally have to be a genius! I know a lot of you guys are doing you exams too so I wish you the best of luck and I know you'll all do amazing. Let me know in the comments how you're finding your exams xxx